Hi Friends! I have 3 great guest bloggers lined up for the next few days while I tredge through snow here in New York. We got 16 inches last night and the city looks like a winter wonderland. First up is Kelsey from Snappy Casual. Thanks Kelsey for volunteering to help me out on such short notice!
Hello, Four Flighters! I'm Kelsey from Snappy Casual. While Andrea and her adorable little family are enjoying their time in NYC (and hopefully staying warm), she invited me to share with you my wardrobe staples for spring.
What I love most about Andrea is her seemingly effortless success as a mom, in fashion, in the kitchen, while crafting and decorating her home (I mean you saw her amazing Christmas mantel, right?). And who isn't inspired by her Buy Less, Give More project for 2011? Most of my blog focuses on my style and daily outfits, but I look to Andrea as someone who has it together in all areas of her life.
I've loved fashion since I can remember. But more than that, I adore my husband and our budget. I have (only) $10/week to spend on clothing. And not long after you start a fashion blog do you realize the importance of stretching your money, so here are my four favorite trends for spring, and how to get them for less:
1. Blazer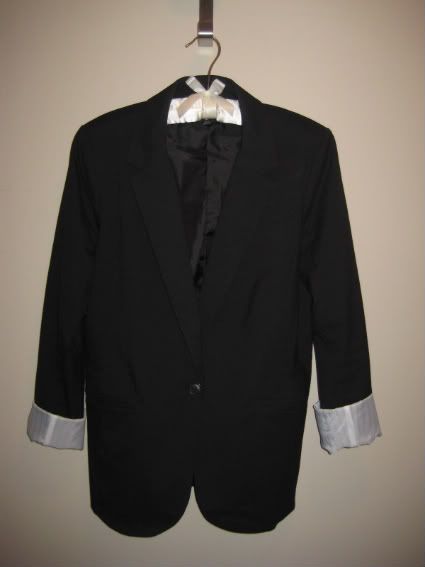 A blazer has a magical way to pull an outfit together. For me, it's the quickest way to look fancy when I'm really not. Which is what being snappy casual is all about, right? I got this black blazer at Target. I have a long torso so my only requirement was that it wasn't cropped. Originally priced $30, I found it on clearance for $8. Can you even believe that amazing deal?!
2. Stripes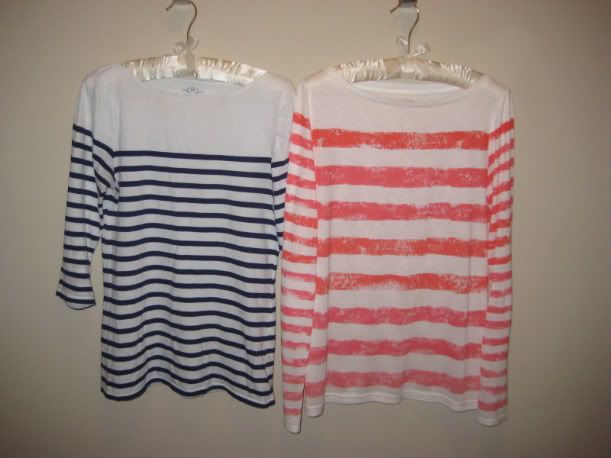 Striped tops are so easy to dress up (with a necklace) or down (with a casual scarf), and you feel comfortable while looking classy. The navy-striped shirt was $10 at Old Navy. You can get a similar one for $6. The orange-striped shirt is $40 at LOFT, but I got it for $24 because everything in the store was 40% off that day.
3. Dark denim (any style that suits your body type)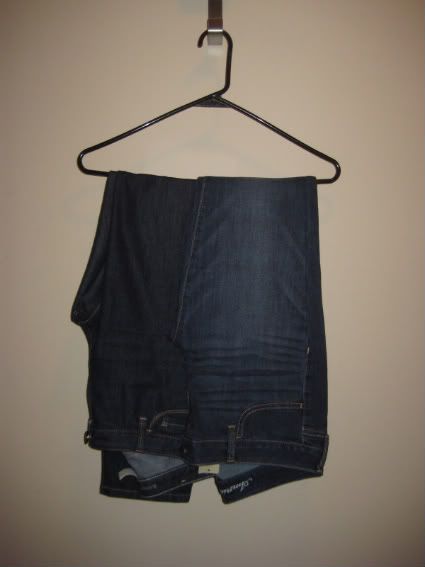 More than any other type of clothing, I'll splurge a little on jeans. I think it pays off eventually with how long they stay true to shape and hole-free. My favorite brand is Banana Republic (they run $80-90 full price), but I just purchased some American Eagle jeggings for $40. (For jeggings, I recommend the kind with pockets, or you will end up returning them like Andrea did.) If you're not a fan of skinny jeans, trouser jeans are totally in style and look great on everyone! I can't wait to get a pair.
4. Nude heels or flats
Nude shoes are so hot right now. My peep-toe ones are Jessica Simpson (from the sale rack at DSW), and the patent closed-toe pair are from Target and cost $30. For flats, you can't go wrong with these beauties from Gap or Steve Madden (check TJ Maxx for a deal).
Voila! These items all work great together in a single outfit that cost less than $130.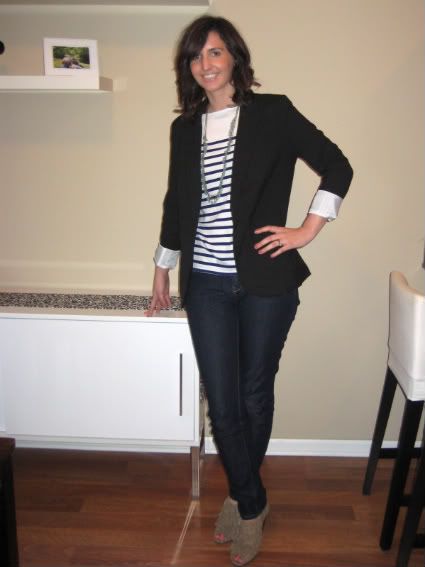 And then it's all about remixing the pieces to work with the rest of your closet. You can wear the striped top with a skirt or tucked into cuffed jeans, or style the blazer with a T-shirt.
Snappy Casual is the personal style diary of Kelsey Williams, a budget-conscious fashion blogger. She loves pairing colors that are cleverly mismatched, waist belts and shopping online.